Install a pool fence for the safety of your family

There is nothing more refreshing and relaxing than having a pool right in your own backyard, especially here in Texas where the summers are hot! While having a pool is a fantastic commodity, it can also be dangerous if not properly secured, especially if there are children around.
The statistics: Per the Center for Disease Control (CDC) website, unintentional drowning claims the lives of at least two children under the age of 14 every day and unintentional drowning in home pools is the number one cause of death for children between the ages of 1-4.
While these statistics are tough to read, the good news is that there is an easy way to prevent these occurrences from happening; pool fencing. The CDC's website also says that "a four-sided isolation fence (separating the pool area from the house and yard) reduces a child's risk of drowning by 83%." The organization also suggests that the four-sided pool fence "should be at least 4-feet high" and to "use self-closing and self-latching gates that open outward with latches that are out of reach of children."
Added Bonus: pool fencing keeps your four-legged family members safe as well!
If adding a pool fence seems like the obvious choice to you too, we are happy to work with you to come up with a design that ensures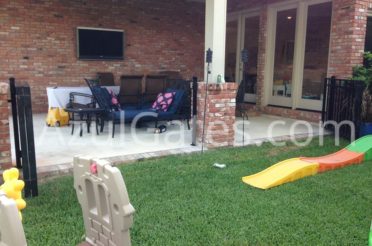 safety while still maintaining the look and feel of your backyard oasis.
References:
CDC: http://www.cdc.gov/HomeandRecreationalSafety/Water-Safety/waterinjuries-factsheet.html